Wow, how do I describe Cuba?
It was a culture shock from beginning to the end. Yes I was expecting old cars a plenty, the dilapidated buildings and the colour but it surpassed all of my expectations.
I stayed in Old Havana first, now a UNESCO World Heritage site making it tourist orientated. Here the old buildings are being preserved and there are plenty of restaurants for the tourists. This is also where you see all the old cars being used for tourist tours and as taxis. You can see from this shot they line up to make the most amazing rainbow of colour.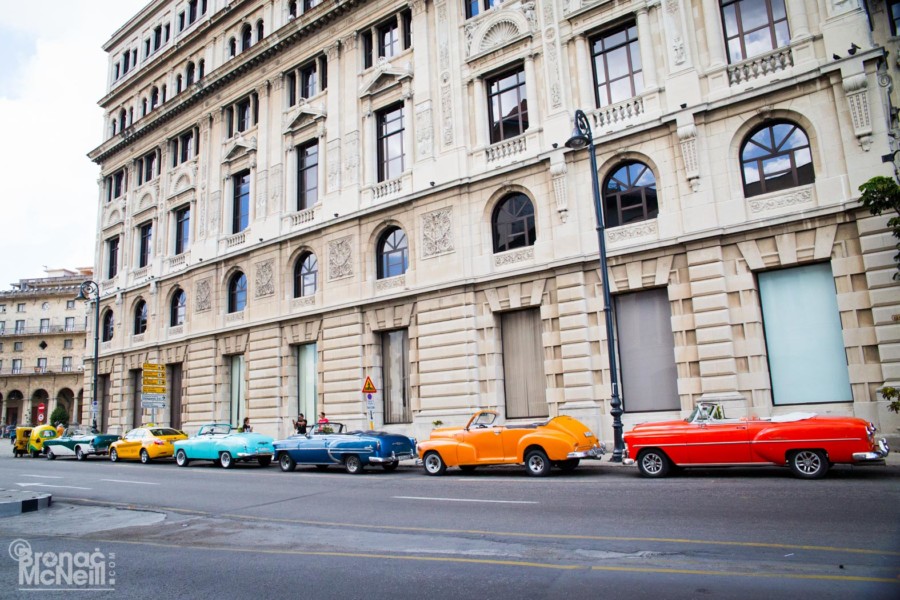 After 4 days in Havana I decided to see a bit of the countryside via the town of Trinidad. Despite four days of heavy rain I did get some beach time in at an all-inclusive hotel at Cayo Santa Maria. The hotel was ok, just a posh Butlins but the beach was heavenly. After a few days of well-deserved R&R I came back to Havana. This time I stayed in Central- definitely not tourist orientated but full to the brim of real life, Cuban style, with all its noise, smells and colour.
The streets were loud with a constant buzz of daily life, street sellers and dirty diesel engines. I soon noticed the lack of glass in the windows in every home meant you could hear every conversation and TV playing. My lack of understanding of the Spanish language made this sound like an opera, I got the intent but not the minutia. If not at home watching one of the few state run channels people either sat outside playing dominos like this group or behind the iron grills of their windows watching the world go by.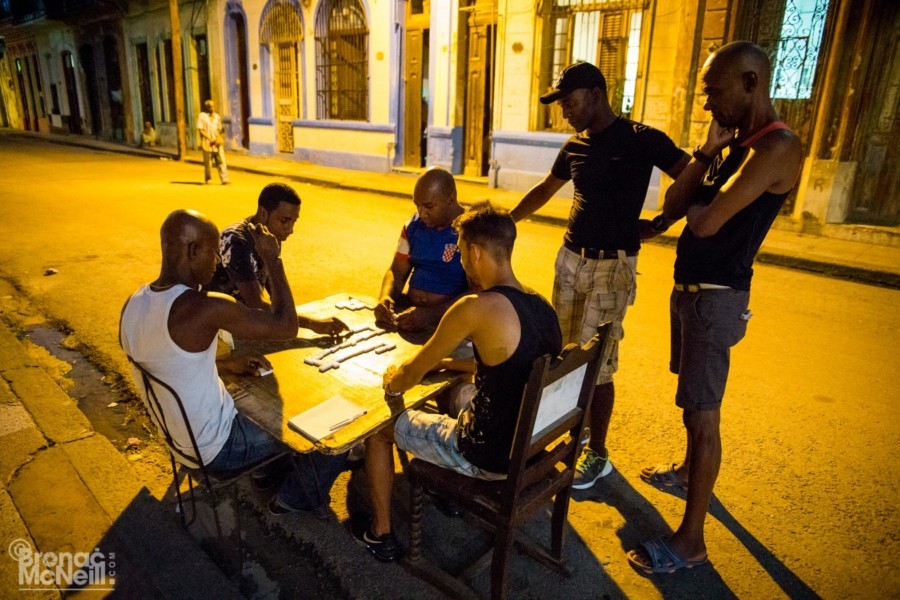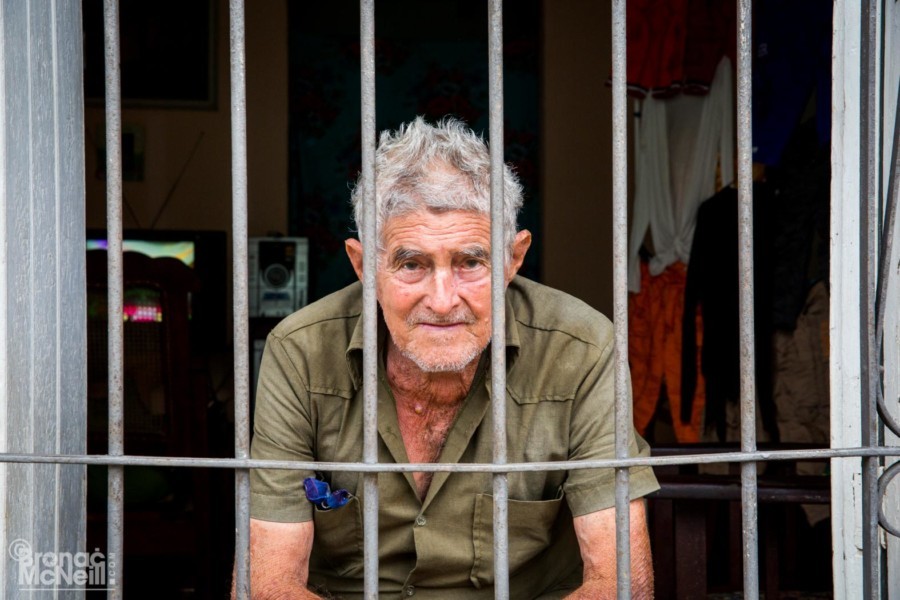 I was expecting exotic, spicy food, maybe like Mexico but was confronted with very little. One major shock was just how poor the Cubans are. They live off rations like our grandparents did during the war. I made friends with 2 Cuba boys Renne and Joey who took me on a wild tour all over their Havana. The photo of the blue shelves is the local store they get their monthly rations. Anything else they eat has to be in season. I asked for orange juice and was looked at strangely and then was told 'It's not in season'.  It has only been a few years since they were allowed any form of free enterprise, so now they have small pop-up shops in doorways selling anything they can to supplement their rations.
Nearly every photo I took I was asked to pay one CUC (Cuban Convertible – the tourist currency) about 50p. The shopkeepers and their stores really interested me. Their faces told stories of pride and hard work, their empty shelves told of a system that hasn't worked since the Soviet Union disbanded leaving them without their covenant.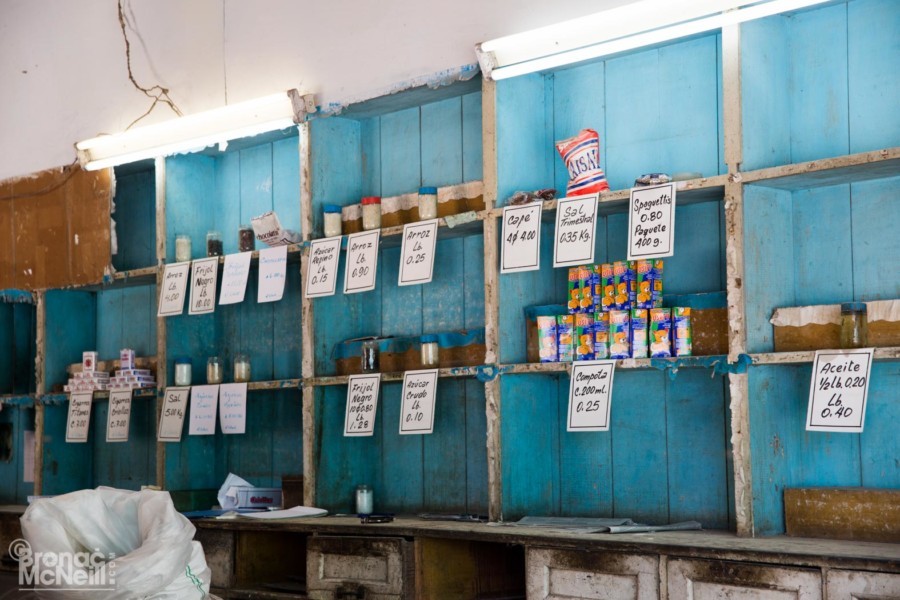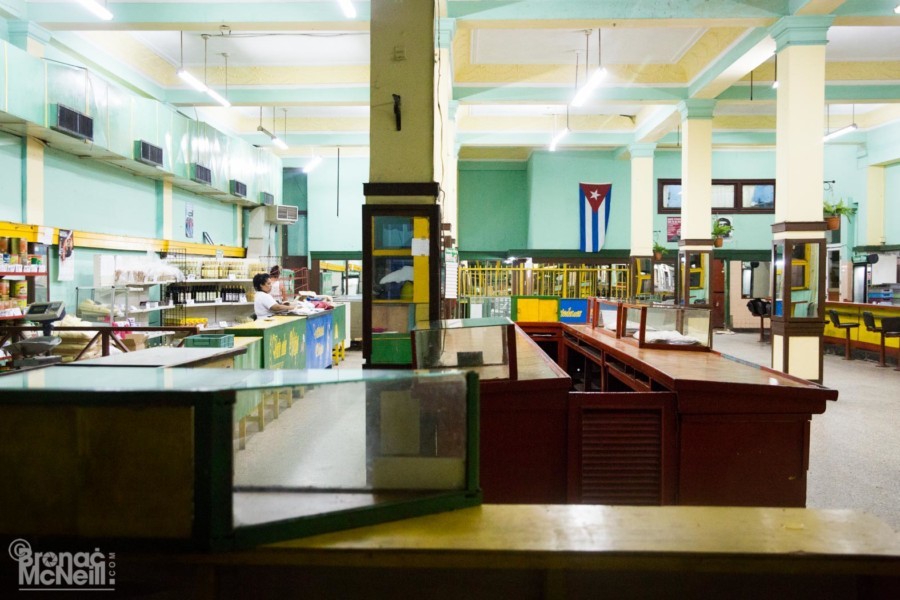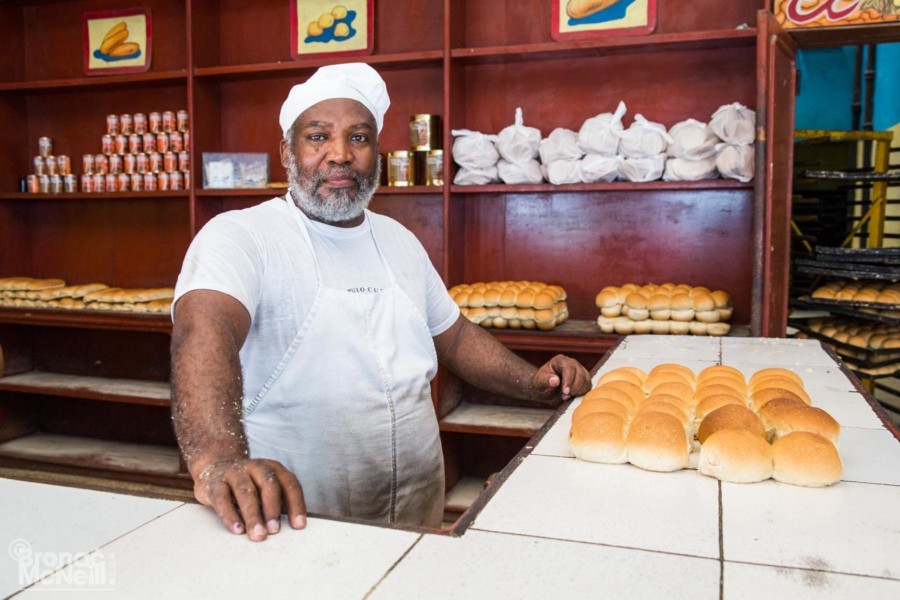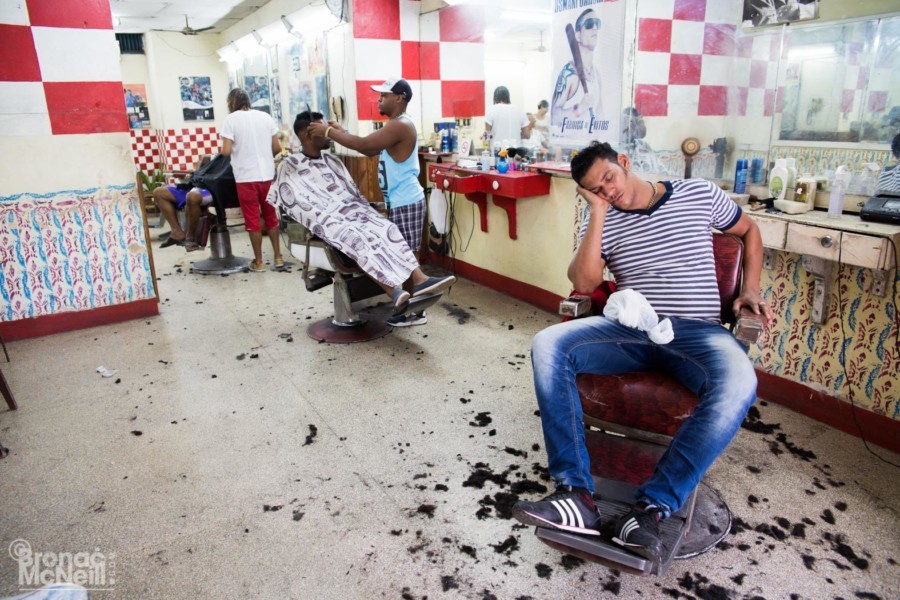 After walking around Havana for a few hours seeing the broken buildings, the old cars and daily life in motion the boys brought me to a shop building. It looked a little out of place but nothing too odd as I'd seen other shop fronts with nothing inside so I wasn't expecting this hustle and bustle of a modern mall. It was loud and plastic and scary. 4 floors of produce that if bought, would have to be paid in monthly installments. At the very top was a government store that sold white and electrical goods again at prices 4 or more times higher than my friends' monthly wages. I couldn't wait to get out of there.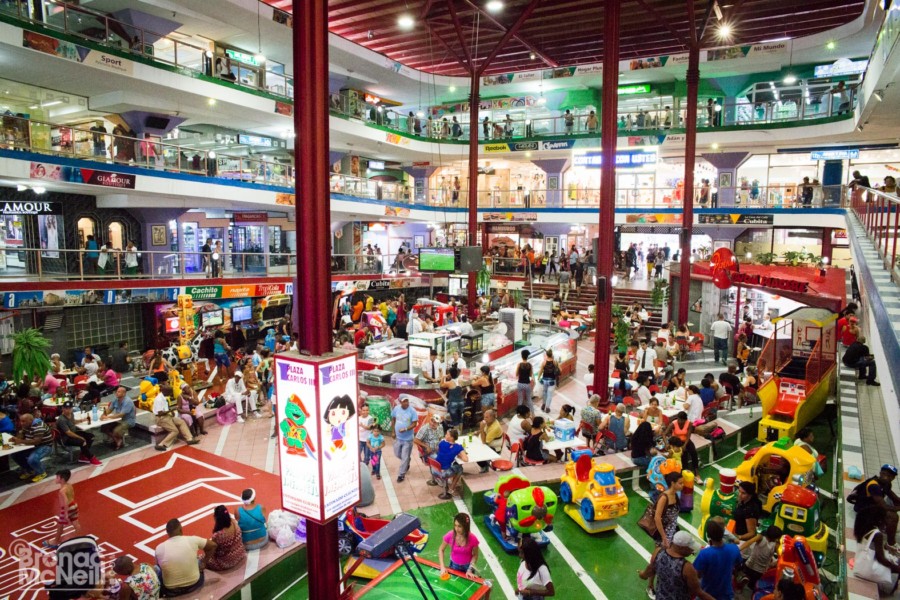 The weird thing was, that for the everyday Cuban there is no excess of anything, except rum in their lives but what I did notice was that they are generally happy and loving people.
I focused mostly on Havana in my photos on the premise that I believe it will change if the American businesses are allowed to come in now Obama has relaxed the trade embargo. The most noticeable things missing in this city were those golden arches and the Coke logos. Hard to imagine that there is one territory that these colossi of American culture have not exploited, but I'm sure Cuba if not now, will soon be top of their agenda. Sadly the regular Cuban will not be able to afford these products but will, like many around the world, strive to eat junk food over the homegrown produce. For now their overnight trash looks like this. Who knows soon there'll be red cans and burger wraps in the gutters.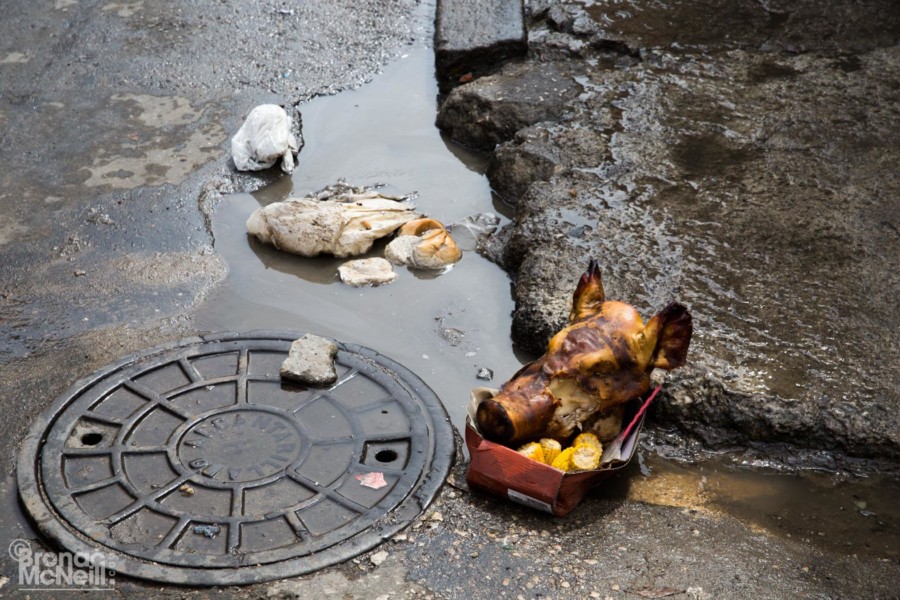 As a port, Havana has taken a beating from the weather over the years this along with lack of preservation explains the crumbling buildings. A situation the Cubans just live with. The Malecon sea front has new buildings going up around the old crumbling ones and I wonder just how long my friend's neighbourhood in Central Havana will last.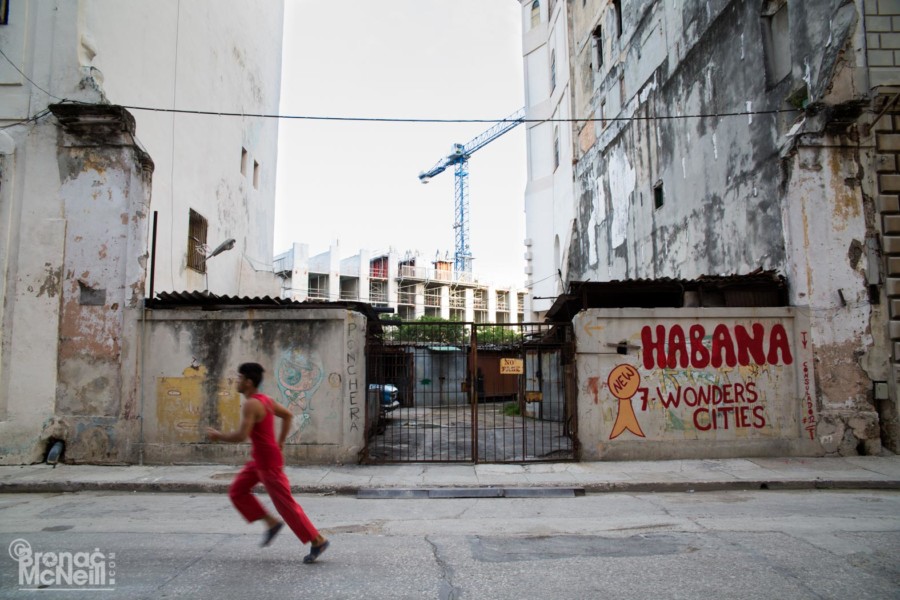 The roads are being dug up in Central Havana for gas or electric we were never sure. The health and safety left a lot to be desired as the trenches have been left open for months if not years in some cases.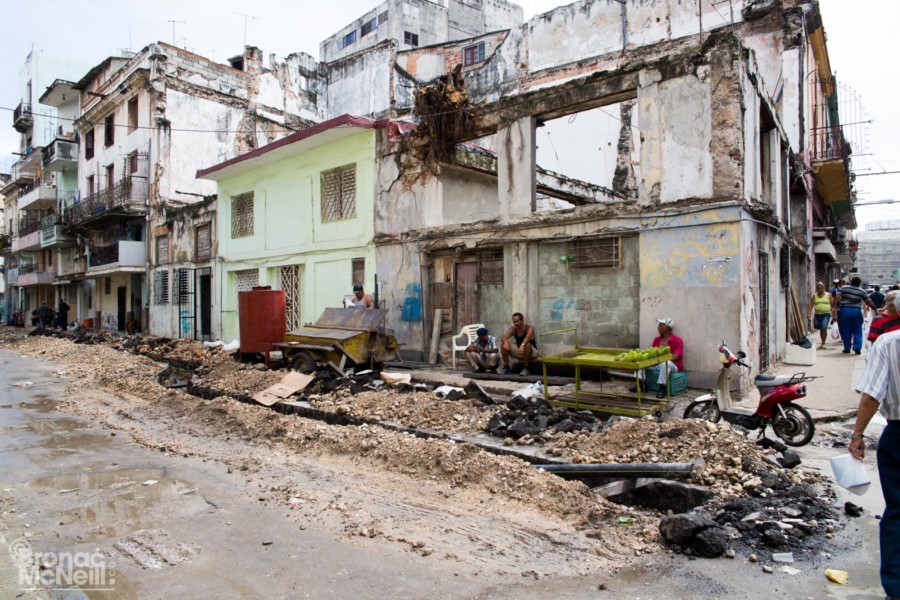 Despite the odd pigs head, the streets are mainly clean but you will find piles of rubbish at the end of a few where the bin men on a horse and cart will scoop it up. Alongside the piles of household waste there'd be piles of rubble. One morning I noticed heap of bricks and plaster in my street that appeared overnight. On looking up I realised it had fallen off the building.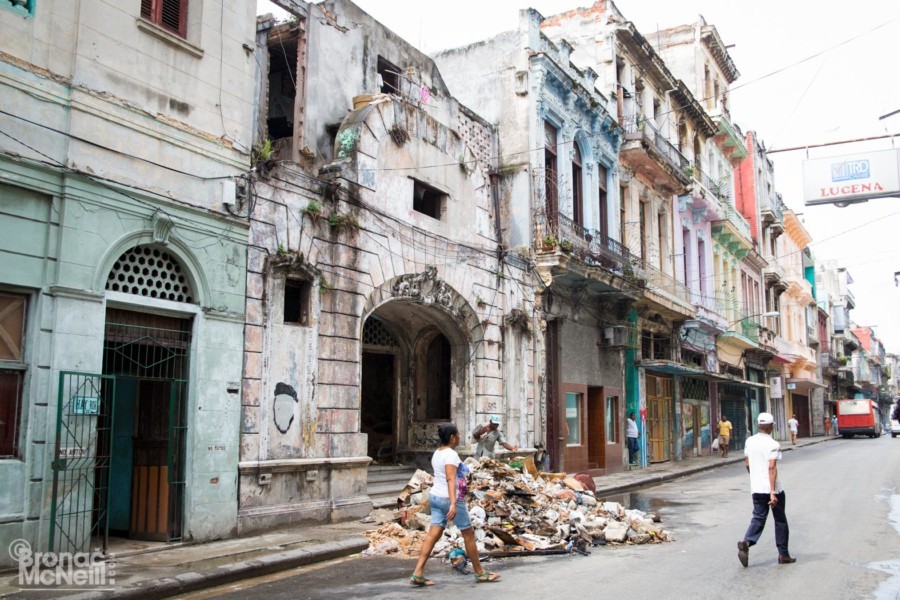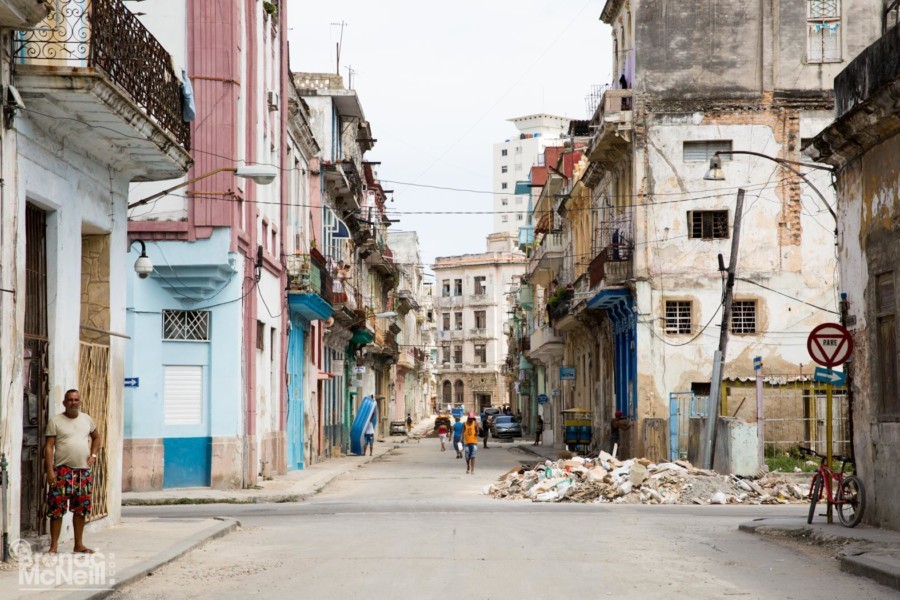 Being an east London girl I love a bit of graffiti and there was quite a bit in Havana. Here are a few of my favourites: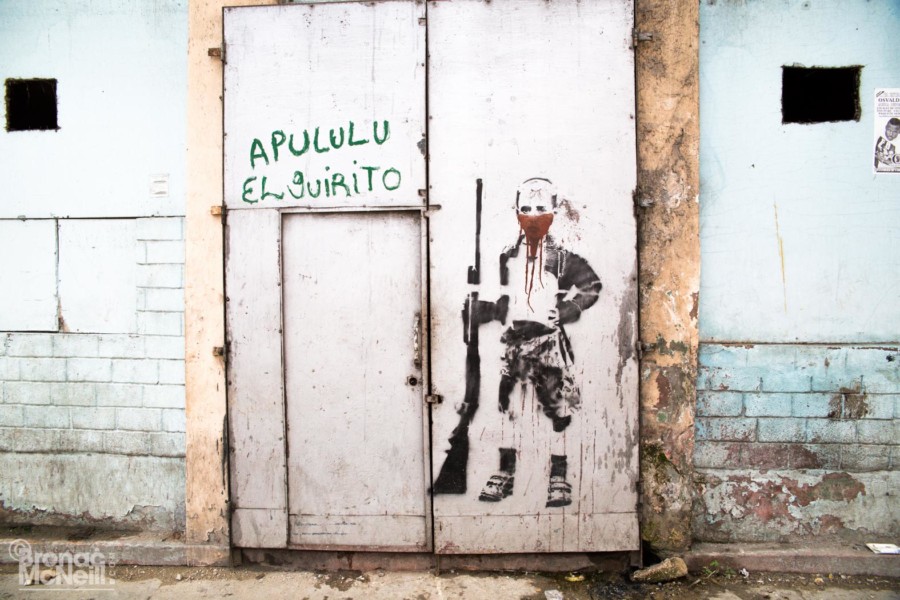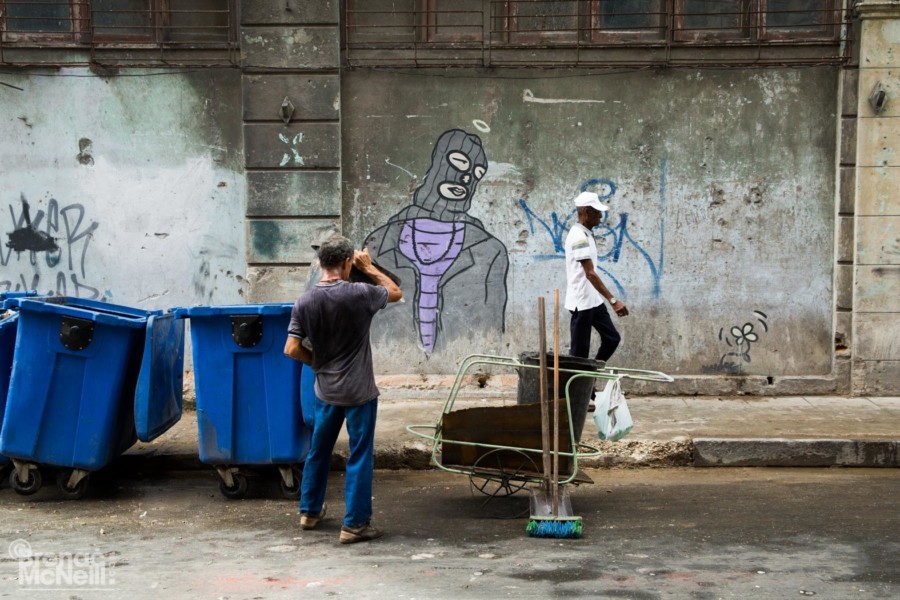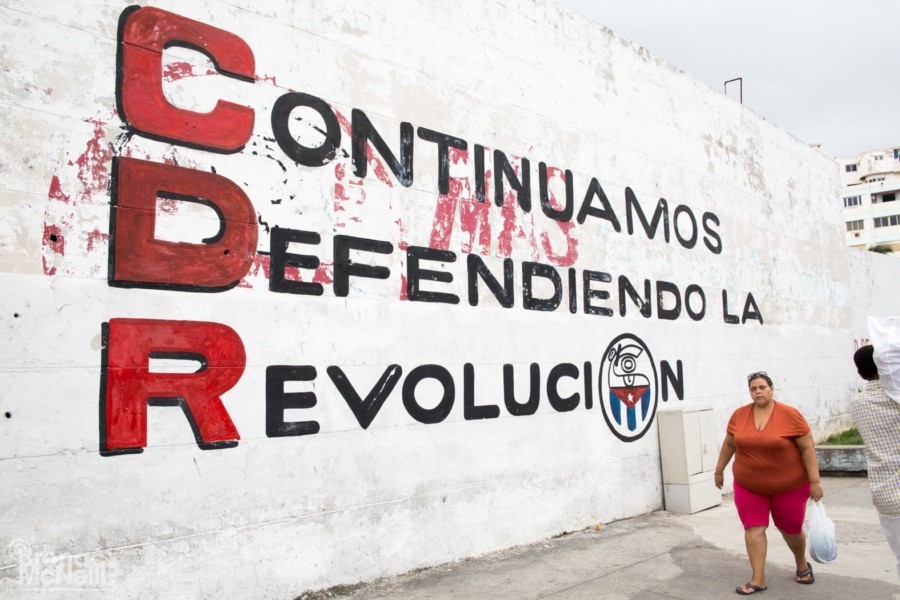 I took many portraits around Havana that I hope will be part of an exhibition of my shots from Cuba in the near future.  I'll leave you with this guy, he sums up the spirit of my Havana.